About Us
Our mission is to protect one million acres of endangered rainforest while empowering indigenous artisan communities to rise out of poverty.
Duration: 1:54
Did you know?
Rainforests Are Critical For Our Survival.
Sometimes it's easy to forget just how important rainforests are to each and every one of us when we live so far away from them.  Some important things to know about them:
Source of over 20% of our oxygen and fresh water.

Home to over 80% of the terrestrial species on Earth.

Source of over 25% of the ingredients found in our modern medicines.

Home to millions of indigenous people.
How Your Purchase Helps provide
Triple Impact
Through our unique 3-tiered approach involving conservation, reforestation & indigenous empowerment, we're able to create an exponential amount of impact with very little.
One Acre Protected

It all starts with conservation, which is why every bracelet sold funds the protection of an entire ACRE of endangered rainforest through our conservation partner Rainforest Trust, one of the highest rated organizations in the protection of tropical ecosystems worldwide. Once the acres of land have been purchased, the locals are empowered through education and jobs to insure the areas remain protected indefinitely.

One Tree Planted

In addition to the acre protected, we also fund the planting of a tree in areas that have already been impacted by deforestation through our reforestation partner One Tree Planted. All trees used in our reforestation projects are carefully and strategically planned to insure that they are always native to the areas they're being planted in.

One Job Created

Empowering indigenous communities with economic opportunities has been shown to be one of the most effective ways to combat deforestation, which is why we focus on creating fair-trade reliable jobs for our indigenous artisan partners. Our project has even been vetted by the World Fair Trade Organization to insure equity and transparency.
Your Purchase Seeds a Greener Future.
Every OMA bracelet not only protects and restores critically endangered rainforests, but also creates opportunities for indigenous artisans to continue to serve as stewards for the land.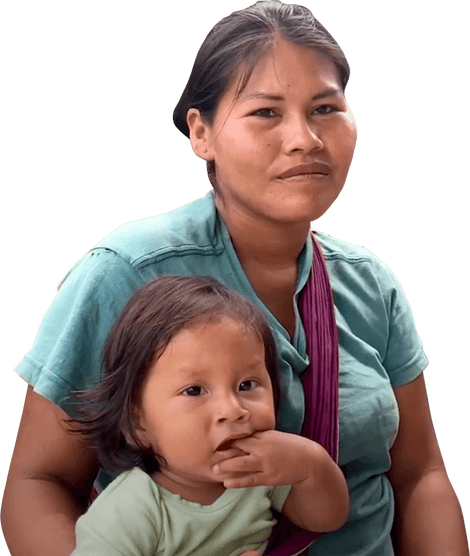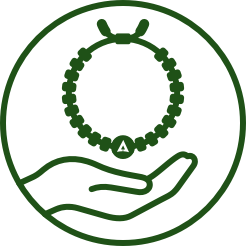 Empowering indigenous artisans
Fighting deforestation with job creation
What many people don't realize is that the indigenous communities that live in the Amazon region are often forced to accept meager payments from large extractive companies in exchange for their land, or even worse, resort to resource extraction themselves, simply because there are no economic alternatives to support their families with.
By creating new job opportunities for our artisan partners, we're able to provide alternatives to deforestation through projects that actually champion conservation and regeneration of the land.
Buy the Bracelet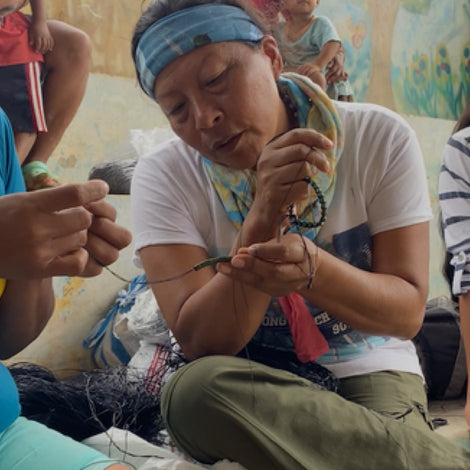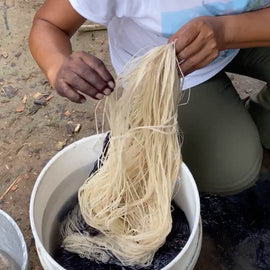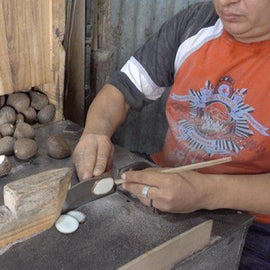 Our Trusted Partners
We have carefully vetted our impact partners to insure the highest level of transparency and efficiency with our contributions. By supporting organizations that have been doing this work for a long time and have proven out their model, we can insure that the highest level of impact is able to be created.
Rainforest Trust is one of the highest rated organizations working to protect tropical ecosystems worldwide. They work by partnering with local and community organizations in and around the areas that are being threatened. After the acres of endangered land are purchased, they are titled to the local communities, who are empowered to help protect it through education, training and employment.

Learn More

One Tree Planted is one of the top tree planting organizations that thoroughly vets out every project, insuring an 80-90% survival rate for all trees planted. Trees are planted all over the world in areas that are in most need of support, insuring that the maximum amount of impact coverage is attained.

Learn More
Meet the Founder
Danny Blue
In the summer of 2018, I took a trip to the Amazon Rainforest in Ecuador, where I stayed in one of the villages of the Waorani tribe, a beautiful people that have been living in harmony with the land for hundreds of years.
On the drive into the jungle, I was completely blown away by the vast number of oil pipes lining the sides of the dirt roads.  What was even more shocking was the massive "oil block" (a fenced in facility with a giant crab-like machine sucking oil out of the ground) located not even 100 yards away from the village where I was staying. 
After learning more about the plight facing these indigenous communities, and how their lack of economic opportunities was furthering the exploitation of their land, I knew I had to do something.
I founded OMA as a way to harness the power of the collective good in people to bring about large-scale change in the world, and to stand up to the greedy corporations that care more about monetary gain than they do the future of our planet.