Palo Santo Diffuser OMA Bracelet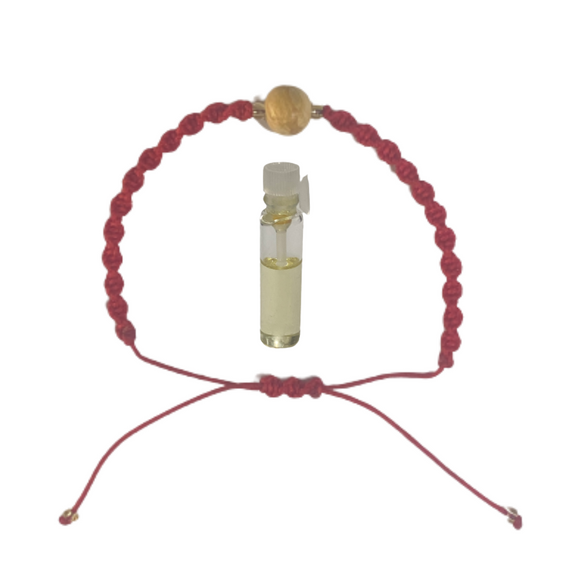 ---
Our newest Palo Santo Diffuser bracelet is made with a single Palo Santo wood bead paired with a beautiful red string, and funds the reforestation of a brand new Palo Santo tree.  It also comes with a small vial of palo santo oil so you can keep your wrist smelling amazing for months to come!
Palo Santo is an amazingly fragrant wood native to the Ecuadorian Amazon that is known for its amazing healing benefits.  Wear the spirit of the rainforest on your wrist with pride while creating a big impact for the Amazon!
SPECS:
Made with a sustainably sourced palo santo bead from Ecuador
Comes with an additional vial of palo santo oil
Every bracelet protects an acre of rainforest and plants a palo santo tree
All natural jute hemp carrying pouch
100% handmade by indigenous artisans
Vetted partner of the World Fair Trade Organization
Unisex, adjustable design
SHIPPING:
We are proud to ship all orders using Sendle, a 100% carbon-neutral shipping service.  You can learn more about our commitment to sustainability by clicking here.
U.S. Orders: 3-5 business days for delivery. International: 5-10 business days. Shipping fees calculated at checkout. Please note that some international orders may incur customs fees, we advise you to check with your local post authority.
WHY OMA?
Unlike other bracelets that claim to be "100% handmade" while being mass produced in a factory in China, our bracelets are TRULY handmade by indigenous artisans in the Ecuadorian Amazon from sustainably sourced natural materials.  Don't be fooled by words like "recycled" and "eco-friendly" when the truth of the matter is that most of these bracelets are made from nylon (which is PLASTIC) and will end up right back in a landfill at the end of their life. 
OUR PROMISE
We stand by our products 100%. If you have any issues whatsoever, we'll replace or refund your order, no questions asked!