Clean Water OMA Bracelet
$20.00
Regular price
$25.00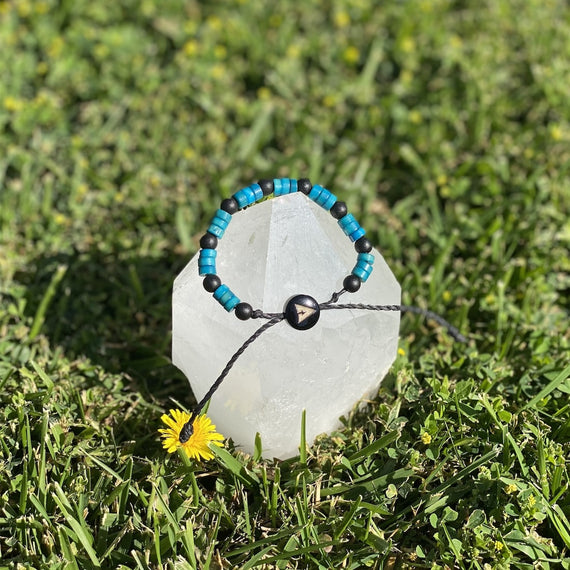 One Acre of Endangered Rainforest Protected
10% of Proceeds to Clean Water Initiatives
Made from Organic Materials/Biodegradable
Creates Fair-Trade Jobs for Indigenous Artisans
---
Our Clean Water OMA bracelet not only funds the protection of an entire ACRE of endangered rainforest with every bracelet sold, an additional 10% of proceeds are donated to Water Mission, one of the leading organizations working to provide clean and safe water solutions to developing areas in most need of it.
SPECS:
Made from tagua and chambira, two all-natural organic materials sustainably sourced from the Amazon Rainforest
Zero-waste plantable seed paper packaging 
All natural jute hemp carrying pouch
100% handmade by indigenous artisans
Vetted partner of the World Fair Trade Organization
Unisex, adjustable design
SHIPPING:
We are proud to ship all orders using Sendle, a 100% carbon-neutral shipping service.  You can learn more about our commitment to sustainability by clicking here.
U.S. Orders: 3-5 business days for delivery. International: 5-10 business days. Shipping fees calculated at checkout. Please note that some international orders may incur customs fees, we advise you to check with your local post authority.
WHY OMA?
Unlike other bracelets that claim to be "100% handmade" while being mass produced in a factory in China, our bracelets are TRULY handmade by indigenous artisans in the Ecuadorian Amazon from sustainably sourced natural materials.  Don't be fooled by words like "recycled" and "eco-friendly" when the truth of the matter is that most of these bracelets are made from nylon (which is PLASTIC) and will end up right back in a landfill at the end of their life. 
OUR PROMISE
We stand by our products 100%. If you have any issues whatsoever, we'll replace or refund your order, no questions asked!
Clean Water

Water is literally the source of all life on Earth, yet there are currently over 2.2 BILLION people around the world that lack access to clean, safe water. 10% of the proceeds from every Clean Water OMA bracelets is donated to Water Mission to create lasting solutions to help end the global water crisis.

Protected Forests

Just like our original OMA bracelet, every Clean Water bracelet funds the protection of an entire ACRE of endangered rainforest through our conservation partner Rainforest Trust. With 20% of the Earth's fresh water coming from the Amazon, the protection of these ecosystems is absolutely CRUCIAL to the clean water movement!

Fair-Trade Jobs

Every OMA bracelet helps to create fair-trade reliable work for the indigenous artisan communities that we serve. Fully vetted by the World Fair Trade Organization, our artisans typically earn anywhere from 4-5x what they normally would with the jobs created from the making of our bracelets.
FAQ
How are you able to protect an entire acre of rainforest for every item you sell?
In order to pull this off, we've partnered with Rainforest Trust, one of the highest rated organizations on Charity Navigator, a third party organization that rates companies based on their transparency and efficiency.  Thanks to the support of their board members who cover the majority of the operating expenses, Rainforest Trust is able to allocate 100% of the project donations directly to conservation action.  Meaning we're able to make a little go a LONG way.
How is OMA different from all the other cause bracelets I've seen before?
Our first-of-its-kind OMA bracelet is made ENTIRELY of organic materials that have been sustainably sourced from the Amazon Rainforest, making it 100% biodegradable.  Even the most "eco-friendly" bracelets out there still use traditional nylon for their string, which is just another form of plastic, meaning they will still end up in a landfill at the end of their life cycle.  Not to mention, we are the only bracelet that comes with a ZERO-WASTE plantable packaging, meaning you can plant your packaging when you're done with it to cut down even more on unnecessary waste. 
Also, the sad truth of the matter is that 99% of the bracelets being used for these types of initiatives are just repurposed factory-made bracelets from China.  Many times people will use terms like "recycled" and "eco-friendly" to describe them but the reality is that these mass produced bracelets are anything BUT.
The heart and soul of our brand lies within our relationships with our indigenous artisans partners. We are not just "selling bracelets"  to fund a cause, but rather, creating new economies and opportunities for the artisans in the very same areas we are working to protect, thus GREATLY increasing our ability to make an impact.
Are you a non-profit?
OMA is classified as a social enterprise, a business that utilizes profits to support social good causes.  While the "for-profit" part seems to throw many people off, this is a MUCH different approach than the typical "profit-centric" corporations that are part of the very same industries we are working to fight against.
Companies like TOMS and Patagonia are great examples of social enterprises that have utilized this model to create a massive amount of good in the world.  As a non-profit, we would actually be much more limited in our ability to create the fair-trade economic opportunities we've built out for our indigenous artisan partners.
Ultimately, we pride ourselves on integrity and transparency being our guiding stars for this project, and this translates into EVERYTHING we do.  You will never see us utilizing any sort of marketing tricks or tactics to win your business, as we feel that if the heart and soul of a project like this is pure, you won't need to be "sold" anything at all. With that said, if there is ever anything that you are unsure about or just want to feel more secure in your purchase going to where we say it's going, don't hesitate to reach out to us directly. We'd love to connect!
Are there any leather or animal products in your products?
No.  All of our materials are sustainably sourced Earth-based materials and are 100% animal and cruelty-free.
Which rainforest will my purchase help protect?
The current initiative that we're supporting is for the Amazon Rainforest., one of the places that is in the most urgent need of support right now.  As we grow, our goal is to create various products that help fund projects in rainforests all over the world!
I see a lot of ads online for companies that totally seem like a scam. How do I know that you're legit?
This is a great question, and one that we feel you should be asking of ALL the companies that you're supporting who claim to be utilizing their platform to do good in the world.  We are one of the VETTED corporate partners of both Rainforest Trust & One Tree Planted, two of the highest rated organizations doing this work, so you can rest assured that your purchases are truly going towards conservation projects.  You can find us listed on the Corporate Partners page of Rainforest Trust by clicking here and on the One Tree Planted page here.
How much do the artisans get paid?
This is actually the foundational reason we started this company.  To empower our indigenous artisan partners with economic opportunities that allow them to not just "make some money" but to truly THRIVE.  Our bracelets have been vetted by the World Fair Trade Organization, insuring fair-trade labor practices and transparency.  Our artisans typically earn 4-5X their standard living wage, allowing them to truly make a living and support their families.
What species of wildflower seeds are used in the seed packaging?
Great question!  We intentionally use a non-invasive mix of wildflowers that can be planted safely anywhere in the world!  The full list is:
Black Eyed Susan
Rudbeckia hirta
Catchfly
Silene armeria
Wallflower, Siberian
Cheiranthus cheiri
Alyssum, Tall White Sweet
Lobularia maritima
Baby Blue-Eyes
Nemophila menziesii
zero-waste packaging

Made from compostable paper embedded with a non-invasive blend of wildflower seeds, our packaging is meant to be returned to nature. Literally.